Christmas is a magical time of the year, filled with joy, laughter, and the warmth of loved ones. However, who says we have to confine the holiday spirit to just December? Christmas in July is an emerging trend that allows us to experience the joy of the holiday season during the summer months. It's a delightful way to break the monotony and bring back the merry moments. And what better way to celebrate Christmas in July than with the Tru-Spec Big Foot Holiday Stocking?
Tactical Stocking and the Versatility of MOLLE Gear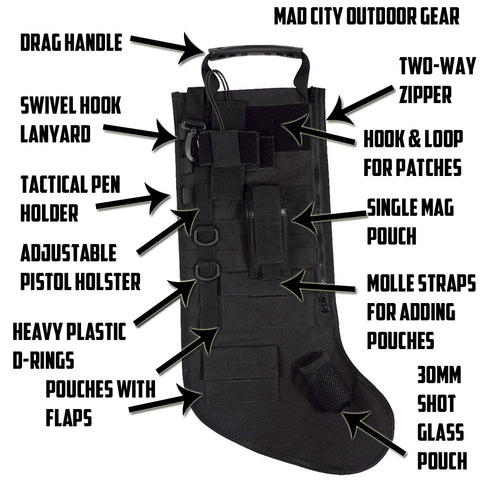 In the realm of holiday decorations, the Tru-Spec Big Foot Holiday Stocking takes on a whole new level of functionality with its tactical design. This unique stocking incorporates MOLLE (Modular Lightweight Load-carrying Equipment) webbing, which opens up a world of possibilities when it comes to customization and practicality.
MOLLE gear, originally developed for military use, has found its way into various civilian applications, including outdoor enthusiasts, emergency responders, and even holiday enthusiasts. Its ingenious design allows for the attachment of compatible pouches, accessories, and tools, turning any MOLLE-equipped item into a versatile and efficient carrying system.
So, how does MOLLE gear fit into the realm of Christmas in July? Imagine decking out your Tru-Spec Big Foot Holiday Stocking with MOLLE pouches that can hold small essentials for your summertime adventures. Whether you're heading to the beach, embarking on a hiking trip, or enjoying a camping getaway, the tactical stocking becomes a convenient way to keep your gear organized and easily accessible.
The uses of MOLLE gear are practically endless. Here are just a few examples:
Utility Pouches: Attach a small utility pouch to your tactical stocking to store items like sunscreen, bug spray, a pocket knife, or any other essentials you might need during your outdoor escapades. No more fumbling through pockets or bags to find what you're looking for—everything will be right at your fingertips.

Water Bottle Holder: Stay hydrated in style by adding a MOLLE-compatible water bottle holder to your stocking. Whether you're out for a hike or lounging by the pool, you'll always have your favorite beverage within reach.

Multi-Tool Holster: For the handy individuals who love to have a trusty multi-tool on hand, a MOLLE-compatible holster is the perfect addition. Attach it to your tactical stocking, and you'll never find yourself in need of a screwdriver, pliers, or a bottle opener during your summer adventures.

First Aid Kit: Safety should always be a priority, even during your Christmas in July celebrations. Consider adding a compact first aid kit pouch to your stocking, equipped with bandages, antiseptic wipes, and other essentials. You'll have peace of mind knowing you're prepared for any minor mishaps.
The versatility of MOLLE gear allows you to tailor your Tru-Spec Big Foot Holiday Stocking to suit your specific needs and interests. Whether you're an outdoor enthusiast, a survivalist, or simply enjoy the convenience of having your essentials readily available, the tactical stocking becomes an essential piece of equipment that seamlessly combines festive cheer with practical functionality.
Ready to bring the joy of Christmas in July to life with the Tru-Spec Big Foot Holiday Stocking? Look no further than MadCity Outdoor, your one-stop destination for all your outdoor gear and tactical needs. At MadCity Outdoor, you'll find a wide range of high-quality products, including the Tru-Spec Big Foot Holiday Stocking, designed to elevate your mid-year celebrations to new heights.
Don't miss out on the opportunity to make lasting memories and spread festive cheer with this unique and versatile stocking. Head over to MadCity Outdoor today and click on the following link Tru-Spec Big Foot Holiday Stocking to explore their incredible selection and make your purchase. Embrace the spirit of Christmas in July with the Tru-Spec Big Foot Holiday Stocking from MadCity Outdoor and create magical moments that will be cherished for years to come. Happy celebrating!